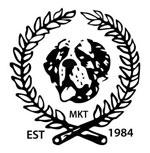 RESULTS 2016
OPEN SHOW
Date: 1st May 2016
Judge: Katie Birkinshaw (Amardapark)

BEST IN SHOW: CHANDLIMORE HAPPY DAYS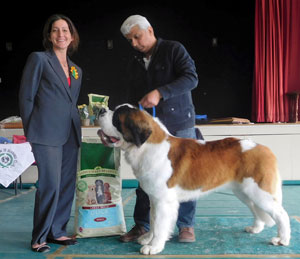 Many thanks to the committee for asking me to judge the May open show. Also I would like to thank the exhibitors for giving me the opportunity to go over their dogs. There were some very good examples of the breed, with much improvement of the eyes.
Minor Puppy Dog
1st Stockdales Chandlimore Storm Trooper. Very promising young dog, Correct head, Well bodied. Plenty of bone. Lvelt topline going & coming
2nd Millwards Millvosis Prine of Darkness. Nice Head, Level topline , not the maturity of 1. presented in excellent condition.

Puppy Dog
1st Lane's Lanebern Gladiator. Well constructed young dog, Clean head, Tight feet, moved forward & back holding topline. BEST PUPPY DOG, BEST PUPPY IN SHOW
2nd Lunn's Brookbear Monsiver Basil. Pleasing head, moved ok with level topline, well bodied. Little overweight, and happy with tail.

Junior Dog
1st Nagrecha's Chandlimore Happy Days. Type & Quality shone from this dog when he entered the ring. Tall upstanding dog with plenty of ring presence. Head, width if scull, Stop all correct. Held topline on the move, powered with drive. BEST DOG, BEST IN SHOW
2nd Andrew's Lanebern On Top At Averyrew. Good head, Width of chest, Spring of rib, held topline on the move. Needed a little more drive on the day.

Novice Dog
1st Andrew's Lanebern On Top At Averyrew.

Post Graduate Dog
1st Forrest's Mountsaviour Druesberg. Moved well holding topline, well proportioned head with a lovely expression . Could do with a little more stifle.

Limit Dog
1st Deegan & Spencer-Gray's Saranbeck Never A Secret. Large well built smooth boy, with plenty of bone & substance. Larger older type head. Moved with power, holding topline. RESERVE BEST IN SHOW - BEST SMOOTH

Open Dog
1st Millward's Finetime Royal Lancer At Millvosi. Good head proportions, with correct bite & eyes. Moved well, just needed a little more drive.

Special Open Smooth Dog
1st MacDonalds Chedham Coz I'm Happy. Well built smooth, lovely correct head, good spring of rib. Moved well holding topline, tail just spoilt outline on the move.
Special Beginners Dog
1st Lunn's Brookbear Monsiver Bazil

Minor Puppy Bitch
1st Taylor's Lanebern Red Ribbons. Very Compact Little girl, feminine head, moved well, presented in fine condition.
2nd Gough's Pippanabbey Finbarrs Star. Taller bitch than 1. good proportions, moved well, preferred 1 on the day.

Puppy Bitch
1st Smee & Coleman. Chandlimore Spin The Bottle At Schaubern. Well built bitch, good width of chest, well angulated, moved with drive. Presented in good condition.
2nd Gough's Pippanabbey Finsbarrs Daisy. Close call with 1st. Bigger bitch, carried a bit too much wight unfortunately on the day.

Junior Bitch
1st Lanebern Causing Mayhem. Well balanced, good head proportions, moved well going & coming, held topline. RESERVE BEST BITCH
2nd Booth's Chedham Miss Willow. Well bodied smooth bitch, lovely head, moved ok could do with a little more power from behind . Tail just spoils outline, shown in excellent condition.

Maiden Bitch
1st Gough's Pippanabbey Finbarrs Daisy

Novice Bitch
1st  Drew's Finetime Summer Breeze. Correct head proportions, good stifle, moved well, could do with a little more bone.
2nd O'Reillys Bernmont Natasha. Pleasing head, correct bite, moved ok, shown in good condition.

Special Novice Smooth Bitch
1st Booth's Chedham Ice Ice Baby. Tall upstanding well built smooth, strong head, moved holding topline, tail spoils outline on the move.
2nd Drew's Finetime Summer Breeze.

Post Graduate Bitch
1st Deuchar-Fawcett Zara In Si Minore Sarenbeck, Lovely shape & Outline, moved with ease, correct head & bite.
2nd Brennan & Staley's Chandlimore Razzle Dazzle. Well built bitch, good reach of neck, held topline. Unfortunately could of moved better on the day.

Limit Bitch
1st MacDonald's Chedham Apples Pye. Plenty of bone & substance, moved well, good head proportions. Liked this bitch very much, well balanced, shown in excellent condition. BEST BITCH
2nd Bannister's Chandlimore Rhythum Dancer At Banndean. Very pleasing bitch, good bone, well muscled, moved well.

Open Bitch
1st Muggleton Bernmont Holly. Well balanced, with plenty of substance. Good head, moved with drive.

Special Open Smooth Bitch
1st Deuchar-Fawcett's Zara In Si Minore Saranbeck
2nd Lane's IR CH Finetime Shady Lady By Lanebern. 6 1/2 year old in excellent condition. Nice expression, strong head, tight cat like feet, well balanced, moved holding topline.

Special Beginners
1st Offords Fair Lady Faith If Kimaroff. Lovely young lady, moved well, would of preferred a little more stop.
2nd Drew's Finetime Summer Breeze.

Breeders Dog Or Bitch
1st Millwards Millvosis Prince Of Darkness

Special Veteran Dog Or Bitch
1st Lane's IR CH Finetime Shady Lady By Lanebern BEST VETERAN
2nd Butt's Chabanou Captain Cuttle. Looking good for a veteran. Lovely head, short back. Held topline on the move.

Brace
1st MacDonalds
2nd Millwards & Lane

APOLOGIES FROM THE CLUB FOR THE LACK OF PHOTOS - WE HAD CAMERA ISSUES